Wholesale Cosmetics recommends:

Beauty Headbands Head width: 7.5 cm and a total length: 65 cm.

Cosmetic band is fastened with Velcro allowing you easily adjust the length.

Raw material: the elegant velor fabric with a weight of 220-240 g/m2

The package of 3.

In the photo example of embroidery,

Offered here are smooth band without embroidery.

We offer the possibility to decorate bands embroidered with your logo.
Minimum quantity for embroidery is 12 pieces.
Larger quantities please order in multiples of 12 pieces: 24, 36, 48, etc.
Price faftu: preparation program: 25 euro, single embroidery from 1 to 2 euro.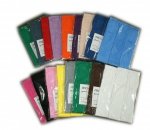 Customers who bought this product also purchased...